UR Fall Detection Dataset
Michal Kępski
Interdisciplinary Centre for Computational Modelling
University of Rzeszow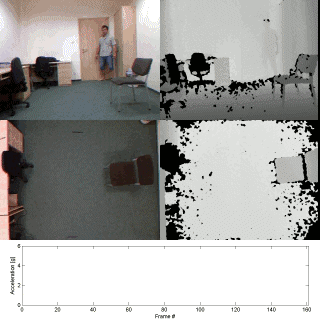 Fall sequences:
Activities of Daily Living (ADL) sequences:
Extracted features:


Extracted features from depth maps are stored in CSV format. Each row contains one sample of data corresponding to one depth image. The columns from left to right are organized as follows:
sequence name - camera name is omitted, because all of the samples are from the front camera ('fall-01-cam0-d' is 'fall-01', 'adl-01-cam0-d' is 'adl-01' and so on),
frame number - corresponding to number in sequence,
label - describes human posture in the depth frame; '-1' means person is not lying, '1' means person is lying on the ground; '0' is temporary pose, when person "is falling", we don't use '0' frames in classification,
HeightWidthRatio - bounding box height to width ratio,
MajorMinorRatio - major to minor axis ratio, computed from BLOB of segmented person,
BoundingBoxOccupancy - ratio of how bounding box is occupied by person's pixels,
MaxStdXZ - standard deviation of pixels from the centroid for the abscissa (X axis) and the depth (Z axis), respectively (it is computed on segmented person transformed to the 3D point cloud),
HHmaxRatio - human height in frame to human height while standing ratio,
H - actual height (in mm),
D - distance of person center to the floor (in mm),
P40 - ratio of the number of the point clouds belonging to the cuboid of 40 cm height and placed on the floor to the number of the point clouds belonging to the cuboid of height equal to person's height.